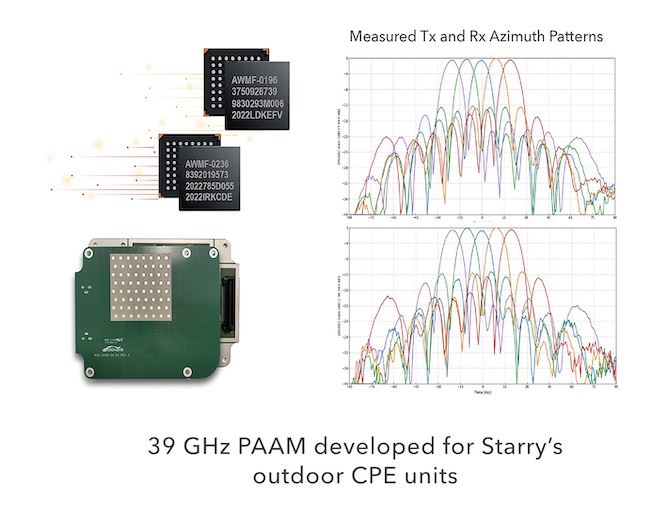 Boston, MA June 15, 2023: Anokiwave, Inc., the leader in highly integrated, cost-effective silicon-based IC solutions for the millimeter-wave (mmWave) and active antenna markets and Starry Group Holdings, Inc. ("Starry"), a licensed fixed wireless technology developer and internet service provider, have collaborated to develop Starry's next-generation customer premises receivers (CPE) to deliver affordable, high-capacity home broadband access across the 24GHz and 37GHz spectrum bands. As part of this collaboration, Anokiwave designed a complete Phased Array Antenna Module (PAAM) using its industry leading Gen-4 silicon ICs, to accelerate Starry's time-to-market for Outdoor CPE units, that met or exceeded all cost and technical specifications and is now ready for production.
Starry's gigabit-capable licensed fixed wireless technology dramatically reduces the cost of providing a home with a gigabit quality signal and low-cost WiFi modem, instead of the traditional 5G modems. This reduces the average total cost of a Fixed Wireless Access (FWA) point to nearly 1/100th the cost of building fiber to the home. Starry's technology also enables significant reductions in network build time as compared to wireline networks. Anokiwave's PAAM, utilizing its industry leading linear power and efficiency Gen-4 ICs, helped Starry to meet their aggressive cost, schedule, and performance requirements. The Anokiwave developed 24 GHz and 37 GHz PAAMs allowed Starry to reach production ready design and complete radio in less than 12 months from the start of the project.
"Our antenna team, using Anokiwave's Gen-4 world class, state-of-the-art ICs, developed an antenna module for Starry that met or exceeded all performance, cost, and timing goals," states Pete Moosbrugger, Anokiwave VP of Advanced Antenna Technology. "The PAAM is designed to scale to high volume production, allowing Starry to focus on bringing this generation of technology to market in record time."
"This business model and engineering development plan between the two companies has become a gold standard within Starry for the way projects should be executed and radios developed and delivered," said Joe Lipowski, Starry Co-Founder and Chief Technology Officer. "Anokiwave has been an excellent and collaborative partner and their ability to meet our timelines and cost targets enable Starry to continue to deliver on the technology innovations necessary to continue to deliver an affordable, high-quality home broadband experience to our customers."
Availability:
All Anokiwave 5G ICs and Starry's fixed wireless products are released, available, and shipping in volume.
About Anokiwave:
Anokiwave is a cutting-edge provider of highly integrated IC solutions that enable emerging mmW markets and Active Antenna based solutions. Anokiwave's creative system architectures and optimal selection of semiconductor technologies solve the toughest engineering problems.
Anokiwave is based in Boston, MA and operates design centers in Austin, TX, Boston, MA, and San Diego, CA with sales offices in Taipei, Taiwan, Boston, MA, and San Diego, CA. Additional information can be found at anokiwave.com/5g.
About Starry:
At Starry, we believe the future is built on connectivity and that connecting people and communities to high-speed, broadband internet should be simple and affordable. Using our innovative, wideband hybrid-fiber fixed wireless technology, Starry is deploying gigabit capable broadband to the home without bundles, data caps, or long-term contracts. Starry is a different kind of internet service provider. We're building a platform for the future by putting our customers first, protecting their privacy, ensuring access to an open and neutral net, and making affordable connectivity and digital equity a priority. Headquartered in Boston, Starry is currently available in Boston, New York City, Los Angeles, Washington, DC, and Denver. To learn more about Starry or to join our team and help us build a better internet, visit starry.com.
Anokiwave Press Contact:
Amy Corman
amy.corman@anokiwave.com
Starry Press Contact:
Mimi Ryals
mryals@starry.com
press@starry.com