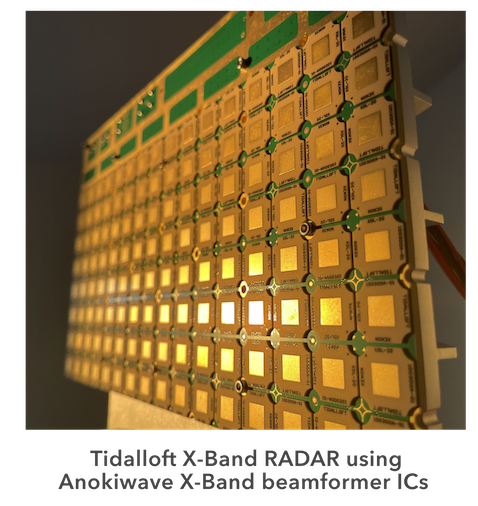 Boston, MA May 16, 2023: Anokiwave, Inc., an innovative company providing highly integrated silicon ICs for millimeter-wave (mmW) markets, and Tidalloft Avionics Research LLC, a company developing software defined phased array RADARs, today announced a collaboration to develop compact, lightweight X-band RADARs for the aviation market.
Phased array RADAR systems at X-band are the perfect balance of range, target resolution, and size. They enable capabilities to detect and monitor obstacles from significant distances, even amidst clutter. X-band RADAR systems are lightweight and are self-contained for ease of integrating into most aviation systems.
Anokiwave's X-Band BFICs (beamforming ICs) are enabling Tidalloft to develop a compact X-band RADAR for the aviation market. The system leverages an integrated software defined radio tightly coupled with a beam steering controller to provide remote sensing coverage over a wide field-of-regard. Using on-board DSP, Tidalloft provides high sensitivity systems with low DC power consumption, compared to legacy solutions.
"AESA RADARs require low cost, low profile, and high performance in order to operate in today's complex environments," states Robert S. Donahue, CEO of Anokiwave. "The X-band BFICs, featuring high resolution and stable phase and amplitude control for fast accurate beam steering and shaping, allow our customers to quickly develop new RADAR systems with optimized cascade performance. We are happy to work with an innovative company like Tidalloft that is developing new markets for aviation RADARs with lower RF power emission, lower false detection, and higher dynamic range."
"Anokiwave has been at the forefront of mmW IC development for years and their product offering remains unique in the market," states Matthew Stoneback, Tidalloft co-founder. "It is a very natural cooperation since we are employing mmW technology to the new segments of aviation markets. Our solid aviation industry background enables us to uniquely understand our projects and market needs."
About Anokiwave:
Anokiwave is a cutting-edge provider of highly integrated IC solutions that enable emerging mmW markets and Active Antenna based solutions. Anokiwave's creative system architectures and optimal selection of semiconductor technologies solve the toughest engineering problems.
Anokiwave is based in Boston, MA and operates design centers in Austin, TX, Boston, MA, and San Diego, CA with sales offices in Taipei, Taiwan, Boston, MA, and San Diego, CA. Additional information can be found at anokiwave.com.
About Tidalloft:
Today, eVTOL (electric vertical takeoff and landing) air taxis are making urban air travel possible. The ability to bypass traffic congestion with point-to-point direct flying and a net reduction in harmful emissions will reshape the transportation industry and increase mobility throughout the global community.
Founded in 2021 by Xu Li and Matthew Stoneback, Tidalloft is devoted to bringing safety to eVTOL air taxis with state-of-the-art AESA RADAR technology. Penetrating through bad weather and covering miles of range, RADAR can obtain the insight of the flying environment that competing sensing modalities cannot. Our AESA technology is suited to fast and arbitrary scanning or tracking in busy airspace and city areas and can provide precise positioning information to pilots or autopilot systems.
Tidalloft technology enables efficient RF power outputs, lower false detection, and higher dynamic range. We have built our in-house hardware and software capabilities from the ground up and maintain IP covering phased array, RF modules, SDR, RADAR DSP and graphical data presentation. For more information, please visit tidalloft.com.
Anokiwave Press Contact:
Amy Corman
amy.corman@anokiwave.com
Stay in Touch with Anokiwave: