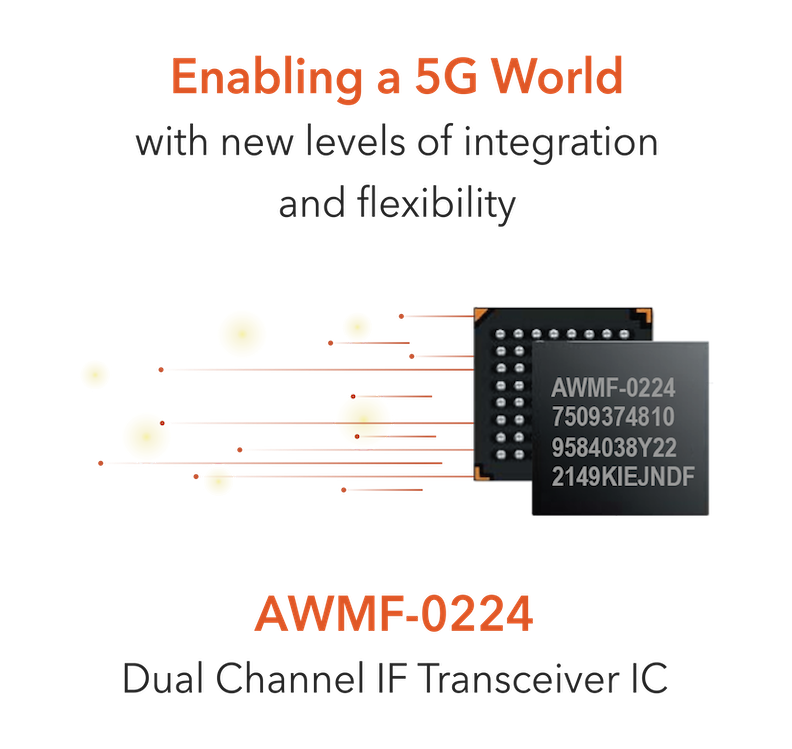 Boston, MA February 15, 2022: Anokiwave, Inc., the leader in highly integrated, cost-effective silicon-based IC solutions for the millimeter-wave (mmW) and active antenna markets, today introduced the industry's first single-chip dual channel IF up/down converter with fully integrated LO synthesizer, delivering a single-chip multi-band solution that enables network operators to design smaller, lower cost, higher performance 5G radios across the entire 3GPP frequency range.
The new AWMF-0224 is a half-duplex mmW to IF transceiver covering multiple 5G bands between 24 GHz to 30 GHz, and first in the family of the 5G IF transceivers. It integrates the entire mmW to IF signal chain for 5G radios, including dual up/down converters, driver amplifiers, multipliers, and LO synthesizer into a single silicon IC, without compromising performance. Features integrated into the IC include:
Two (2) channels of IF up/down converters
Integrated and selectable frequency multiplier
Core distribution and driver power amplifier to drive large arrays
On-chip fully integrated PLL/VCO LO synthesizer offering significant cost savings to client-side applications
Host of multiple digital functions and telemetry controls
The AWMF-0224 IF Transceiver used in conjunction with Anokiwave's recently released AWMF-0221, 4th generation beamformer IC, allows OEMs build the entire mmW 5G radio front end with two (2) IC types, while offering the industry's highest linear power and efficiency. Together, Anokiwave's 4th generation of ICs enables a new level of form factor reduction, a single unified design across n257, n258, and n261 5G bands, and industry leading performance not seen before.
"Our new product category, IF Transceiver ICs, represents Anokiwave's continued commitment to offer system level solutions to the 5G market to enable mmW radios with leading performance, smallest form factor, low cost, and simpler designs for faster time to market. Instead of having to deal with multiple discrete components and trying to optimize the performance, OEMs can now develop complete 5G radios with fewer IC types and IC counts," said David Corman, Anokiwave's Chief Systems Architect. "The multi-band frequency range enables designers to use one set of hardware across all 5G radio applications and antenna deployments, as well as other mmW use cases. We remain committed to advancing the state-of-the-art in 5G mmW technology with increased bandwidth capability, faster time-to-market, and the lowest total cost of ownership."
Availability
To accelerate the development of advanced 5G antennas, Anokiwave provides a developer kit for the AWMF-0224 that includes all hardware and software required to enable full evaluation and RF testing with a user-friendly interface, 10 extra ICs, and a full set of measured data for reference performance. Contact us at sales@anokiwave.com for details.
About Anokiwave:
Anokiwave is a cutting-edge provider of highly integrated IC solutions that enable emerging mmW markets and Active Antenna based solutions. Anokiwave's creative system architectures and optimal selection of semiconductor technologies solve the toughest engineering problems.
Anokiwave is based in Boston, MA and operates design centers in Austin, TX, Boston, MA, and San Diego, CA with sales offices in Taipei, Taiwan, Boston, MA, and San Diego, CA. Additional information can be found at www.anokiwave.com/5g.
Press Contact:
Amy Corman
amy.corman@anokiwave.com
Stay in Touch with Anokiwave: